Our Community
Back to All Our Community
December 10, 2020
WALDEN SAVINGS BANK'S KICKS OFF 4TH ANNUAL "22 DAYS OF GIVING" CAMPAIGN, DONATES OVER $22,000 TO LOCAL CAUSES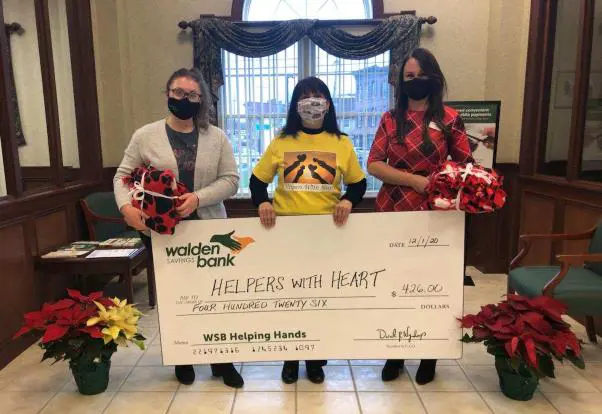 This holiday season, more than ever, Walden Savings Bank recognizes the need in its own community. The Bank is proud to announce the launch of its annual "22 Days of Giving" campaign to give back to local community members and organizations who positively impact the lives of those in the Hudson Valley region. Over the course of the campaign, Walden Savings Bank will donate more than $22,000 to local causes.
 "This past year has been challenging for so many of us; we've worried over the physical and financial health of ourselves and our loved ones. Each year, Walden Savings Bank employees display their generosity through donations, which go toward supporting incredible causes right here in our communities," said Derrik R. Wynkoop, President and CEO of Walden Savings Bank. "Through our 22 Days of Giving campaign, we hope to aid the people and organizations who work hard to make the lives of those in need a little less burdensome, and empower our employees to support causes that are near and dear to their hearts."
Throughout the year, Walden Savings Bank employees make a weekly contribution for the opportunity to dress casually each Friday. These donations, along with a match by the Bank, are distributed to each of the Bank's 22 branches and departments, who then identify a worthwhile cause to support.  Employees are empowered to choose causes with missions that resonate most with them. As a result of the hardships faced by so many due to the widespread pandemic, the Walden Savings Bank team began making distributions this past summer, as there was such an immediate need within the community. 
With the holidays approaching, the final distributions are being made with focus on helping local individuals and families in need plus, a number of organizations were included, addressing multiple causes including: 
Animals
Hunger
Veterans
Cancer
Disabilities
Poverty
Domestic violence
 On each of the 22 days, the Bank spotlights one of its 22 departments or branches on social media, using the hashtag #WSBCares, to share why they selected the individual or organization of their choice. For more information regarding Walden Savings Bank's "22 Days of Giving" Campaign, and to learn more about why each organization was selected, follow Walden Savings Bank on social media.