WSB in the Media
Back to All News
February 21, 2019
2018 Community Business of the Year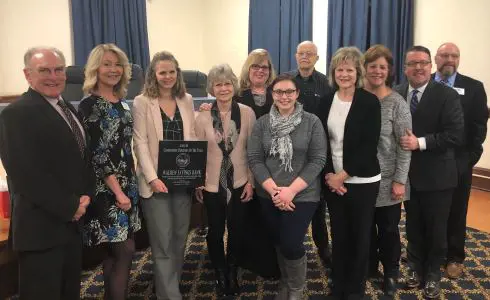 Walden Savings Bank is pleased to announce that it was named the Village of Walden's 2018 Community Business of the Year at the village's 9th Annual Leadership Day. Walden Savings Bank President and CEO Derrik R. Wynkoop accepted the award at a ceremony in the Walden Municipal Building on Thursday, February 21, 2019.
The Community Business of the Year award is given to a Walden business that demonstrates outstanding community support and involvement, and is dedicated to the betterment of the community while displaying leadership characteristics that encourage Village of Walden residents and businesses to do the same. Also honored at the ceremony were:
Julian Aviles, recipient of the 2018 Ronald I. Jacobowitz "Youth Leadership Award,"
Kristie Hall, recipient of the 2018 Midge Norman "Volunteer of the Year Award," and
Mary Ellen Matise, recipient of the 2018 "Sam Phelps Service Award."
Headquartered in the Hudson Valley, Walden Savings Bank has been serving the Walden community for nearly 150 years. The Bank offers 11 full-service branches across the region, as well as a newly-opened lending office in Beacon, N.Y. "Since opening our first branch in Walden in 1872, Walden Savings Bank has been committed to serving this community's financial needs," said Wynkoop.
"It is an honor to be recognized as Walden's Community Business of the Year. We are grateful for the continued support and trust demonstrated by the residents of Walden and congratulate the other recipients recognized for their outstanding volunteerism and service."