WSB in the Media
Back to All News
April 22, 2023
Walden Savings Bank Honors Earth Day With its First Community Shred Day of the Year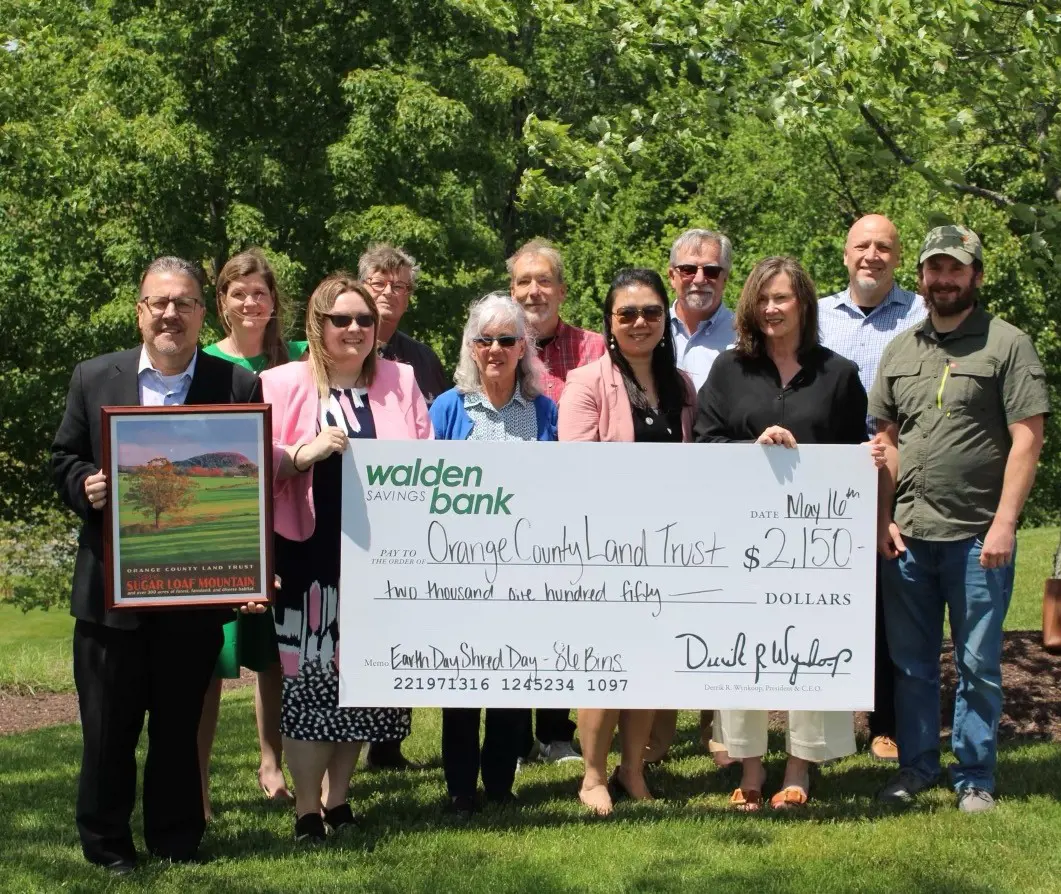 Walden Savings Bank's most recent Shred Day was a huge success, with 86 bins filled and a donation of $2,150 to the Orange County Land Trust. Held on Earth Day, Walden Savings Bank held its first Shred Day of the year and pledged to donate $25 for every full bin of shred to an environmentally conscious organization. Held every year, Walden Savings Bank's mission is to give back to the local community and fight identity theft by offering a free Shred Day to all members of the community so they may safely destroy their confidential documents.
Shred Day is one of Walden Savings Bank's most popular community offerings. The most recent event  was held April 22 at the Scott's Corners Branch, 15 Scott's Corners Drive in Montgomery, N.Y. The event was held in partnership with Legal Shred.
"Both our customers and local community are integral to Walden Savings Bank's success, and our Shred Days are a small way of expressing our thanks," said President and CEO Derrik Wynkoop. "Not only does this event have a positive impact on the environment, but also allows us to inform the public of the importance of maintaining security when it comes to their confidential documents."
Members of the community were invited to shred sensitive paperwork, old checkbooks, binders, soft-cover books, paper and other recyclable paper products. The shredded paper, processed by a high-tech shredder, is recycled, helping preserve and protect the local and global environment.
To attract visitors with documents to shred, Walden Savings Bank pledged to donate $25 for each bin filled. Proceeds, totaling $2,150, benefited The Orange County Land Trust. The Trust, since its founding in 1993, has helped protect nearly 6,000 acres of land through the negotiation of conservation agreements with private landowners, property donations and the acquisition of private property. The acreage is comprised of unique meadows, fertile farmlands, stream corridors, wetlands, forests and recreational acres.
Shredding has emerged as a vital exercise in securing personal information, and is widely used by individuals, companies and nonprofit organizations. During 2022, the Federal Trade Commission received 1.1 million reports of identity theft through its website. Identity theft often results in a victim's personal information being fraudulently used to open credit card or bank accounts, obtain loans or make purchases.
Since its inaugural event in May 2012, Walden Savings Bank has held Shred Days multiple times a year at many of its branches in Orange and Ulster counties. Upcoming Shred Days:
Saturday, July 22, 2023, 10 a.m. - 1 p.m., Gardiner Branch, 2356 State Route 44/55, Gardiner, N.Y. 12525
Saturday, Sept. 30, 2023, 10 a.m. - 1 p.m., New Windsor Branch, 213 Quassaick Ave., New Windsor, N.Y. 12553