WSB in the Media
Back to All News
March 27, 2023
Promotions and New Titles for Walden Savings Bank Managers Reward Superb Performance and Stellar Customer Service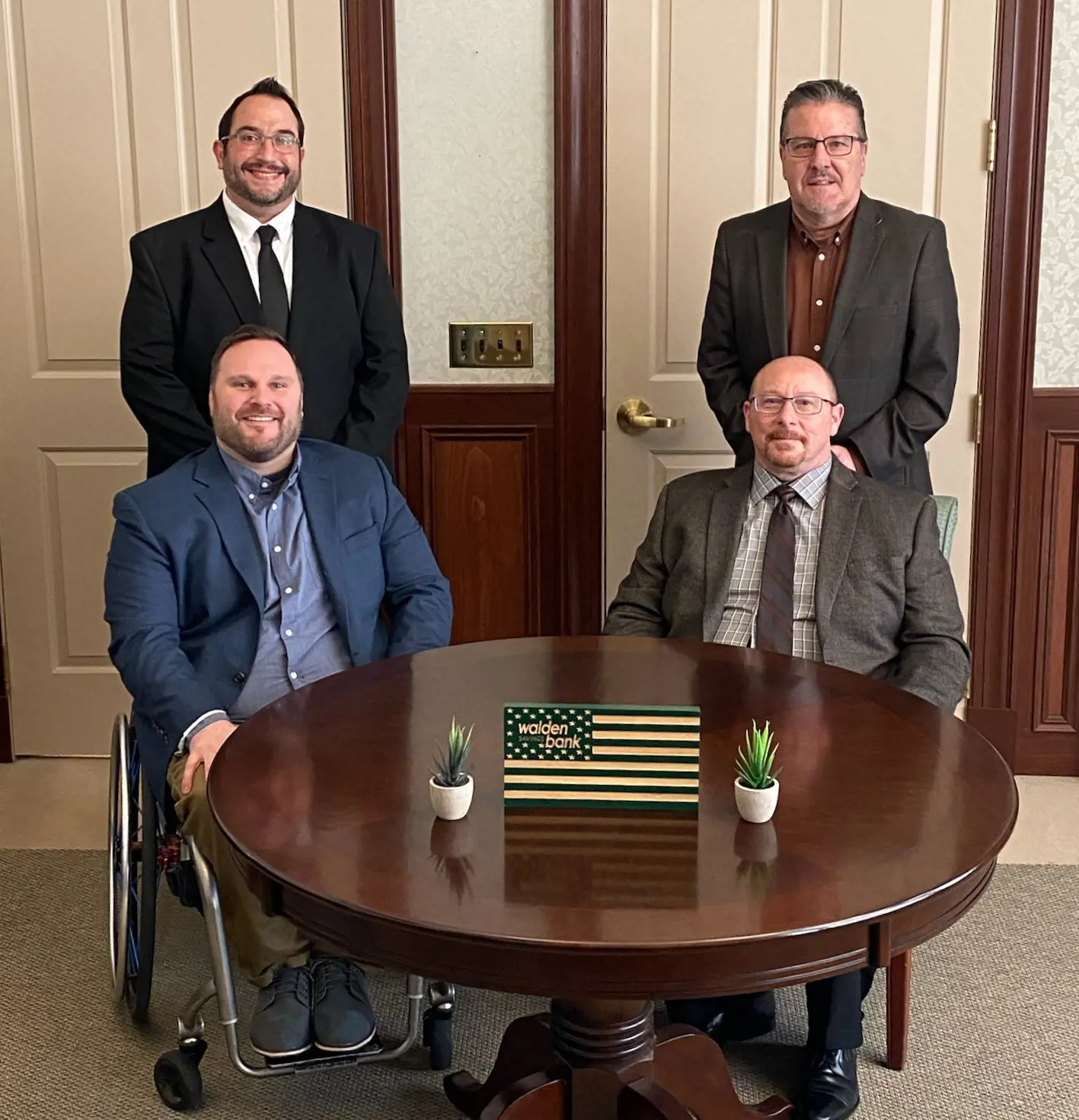 Walden Savings Bank recently announced the appointment of three new officers as well as five executive promotions, reflecting their exemplary contributions as well as the success of the Bank's comprehensive career growth and development initiatives.

"We're proud to reward the dynamic contributions of these talented employees, who prioritize how each initiative and solution can enhance our valued customers' banking experience," said President and CEO Derrik Wynkoop. "Their vital leadership every day is the bedrock of Walden Savings Bank's legacy of exceptional service and personalized attention."

Tyler Ryan, Keith Porsch and Todd Grausso have been appointed to Assistant Vice President positions within various divisions of the Bank.
Tyler Ryan, a 10-year veteran of Walden Savings Bank, is the Lending Core & Data Integrity Manager. He started his career at Walden Savings Bank in 2012 and has worked in a number of roles including Retail Mortgage Loan Analyst and Corporate Loan Administrative Supervisor. He is a graduate of Dowling College in Oakdale, N.Y., has participated in the Leadership Orange career-development program and is a recipient of the Orange County Rising Star award.
Keith Porsch, Training and Talent Manager, joined Walden Savings Bank in 2017 and oversees training and organizational development. He was named a Junior League of Orange County Rising Star and is a graduate of Leadership Orange. He brought 10 years of banking experience when he joined Walden Savings Bank, and attended both SUNY Orange and SUNY New Paltz.
Todd Grausso, Information Technology, has extensive banking experience coupled with information technology expertise throughout his career. An 11-year employee of Walden Savings Bank, he is a graduate of SUNY Orange and Dominican College and has been active in numerous community endeavors such as the Boy Scouts, United Way, Jaycees (Junior Chamber of Commerce) and March of Dimes.

In addition to new officer appointments, Walden Savings Bank has promoted five members of the executive team who continue to excel in their respective roles and are tremendous assets to Walden Savings Bank.
John Scognamiglio is now Executive Vice President in addition to Chief Financial Officer. He was promoted from Vice President and has been with Walden Savings Bank for 13 years.
Cindy Voss has been promoted to Senior Vice President. She is a 25-year employee and also oversees the Information Technology Department.
John M. Carola has been named Senior Vice President. He oversees the Bank's branches, Contact Center and Marketing Department.
Peter Fedun, who has worked at the Bank for 25 years, has been promoted to Vice President.
Pamela Spieler has been named Chief Diversity Officer in addition to Vice President of Human Resources. She will lead the organization's efforts supporting Diversity, Equity, Inclusion and Accessibility.
"We are confident that these exceptionally dedicated employees will continue to boldly innovate to propel the success of Walden Savings Bank as well as a superb customer experience every day," Wynkoop said.