WSB in the Media
Back to All News
December 15, 2021
WALDEN SAVINGS BANK'S ANNUAL "22 DAYS OF GIVING" CAMPAIGN RAISES OVER $24,000 FOR LOCAL CAUSES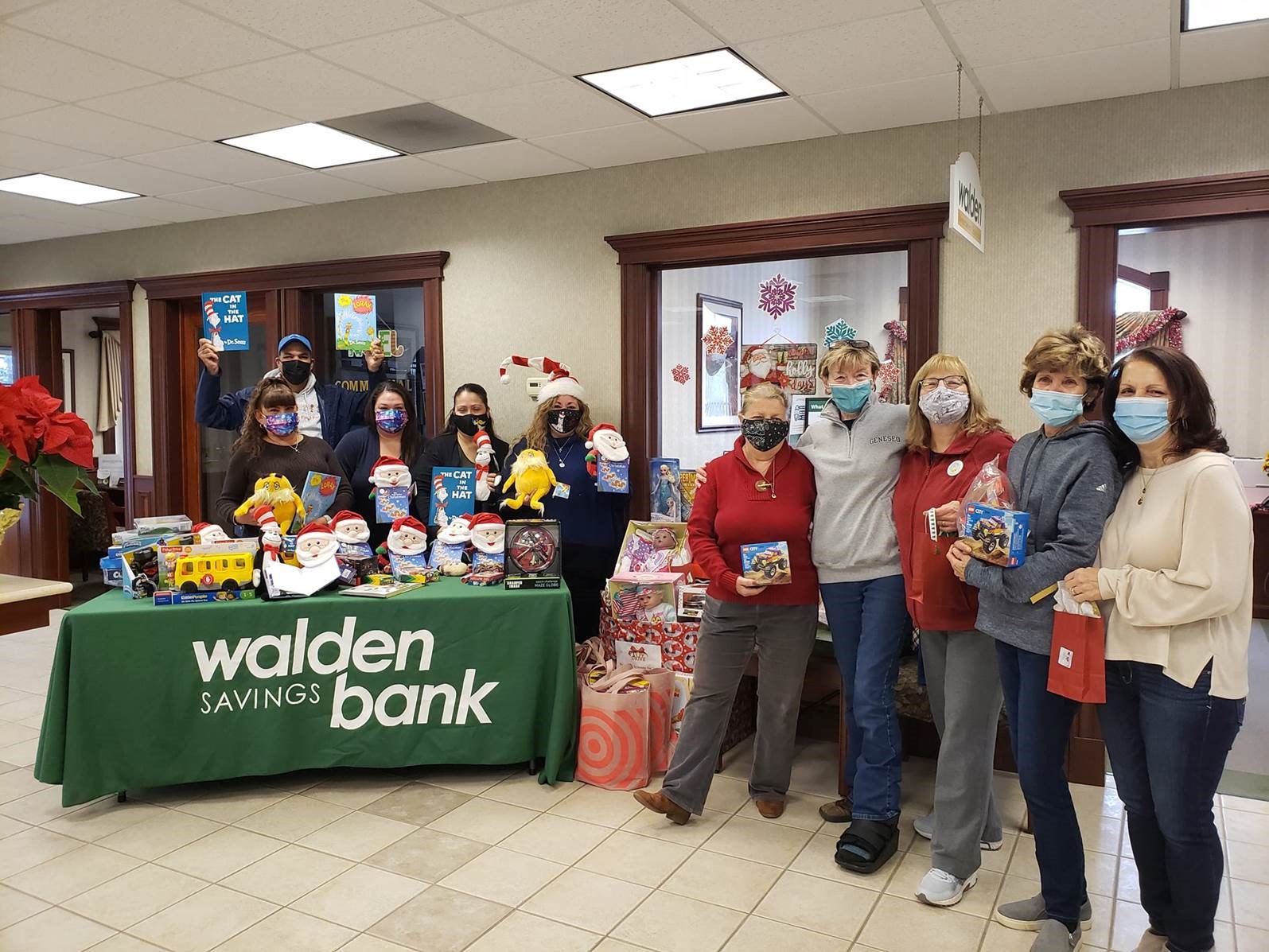 Walden Savings Bank employees with volunteers from the Washingtonville Food Pantry, Country Thrift Store and Food for Kids Program. Left to Right: Denice Soba-Santiago, John Flores, Amanda Bosley, Jeanette Jimenez, Martha Barrera, Marie Mancuso, Jane Hosford, Cheryl Curran, Ann Marie Hogan, Angela Milozzo.
In the midst of the holiday season, Walden Savings Bank is proud to kick off its fifth annual "22 Days of Giving" campaign to give back to the people and organizations who make a difference in the Hudson Valley. Throughout the campaign, the Bank will donate over $24,000 to local causes.
"The 22 Days of Giving campaign was established to complement year-round philanthropic efforts throughout the holiday season." said Derrik R. Wynkoop, President and CEO of Walden Savings Bank. "Our team is dedicated to enhancing the quality of life for families and individuals in need in the Hudson Valley".
Throughout the year, Walden Savings Bank supports the community through sponsorships, donations and a robust Community Service Program, which provides employee volunteers to community organizations. Employees are empowered to choose causes with missions that resonate most with them.
Walden Savings Bank employees make a weekly contribution for the opportunity to dress casually each Friday. These donations, along with a match by the Bank, have been distributed to each of the Bank's departments, who then identify a worthwhile cause to support. Throughout the holiday season, the Bank will spotlight some of its 22 departments or branches on social media, using the hashtag #WSBCares, to share why they selected the individual or organization of their choice.
In addition to providing support to local individuals and families in need, a number of organizations were included, addressing multiple causes including:
Domestic Violence
Mental Health
Juvenile Diabetes
Cancer
Animals
Hunger
Veterans
Poverty
During the holiday season, Walden Savings Bank encourages the community to donate to charities of their choice. Several local organizations that implement and support important initiatives welcome the assistance.
For more information regarding Walden Savings Bank's "22 Days of Giving" Campaign, and to learn more about why each organization was selected, visit waldensavings.bank/news or follow Walden Savings Bank on social media.