Fraud Text Alerts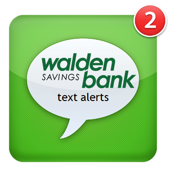 We've expanded our fraud prevention and communication system to include text alerts should unusual debit card activity be detected on your Walden Savings Bank debit card.  Be sure that we have your current cell number on file so that you can receive this convenient service!
Not sure if we have your cell phone on file?
Tell me more about Fraud Text Alerts
Q. What will these text alert messages look like?
A. As an example, Walden Savings Bank Fraud Alert: Did you attempt transaction on card ending 0000 at Merchant in WA for $25.62 Reply YES or NO.
Q. Can I approve the purchase in question, via a text response?
A. Yes, simply reply "YES" to the text message to acknowledge that the transaction is legitimate and you wish to proceed.
Q. What if I do not recognize the transaction in question?
A. Simply reply "NO" to indicate this isn't a charge you've authorized on your card to prevent the transaction from going through.
Q. What if I do not respond to the Text? What happens to my purchase and debit card?
A. If the text is not responded to, the notification process continues and our fraud department will attempt to call you by phone. If no contact is made, the transaction is processed and your debit card remains active unless additional suspicious activity continues.
Q. Can I get more information on the purchase if needed?
A. Yes, simply call our Contact Center at 845-457-7700 option #3 or stop into one of our local branches.
Q. Can I stop the text messages from Walden Savings Bank Fraud Alert System?
A. Yes, simply Text STOP or go into a local branch to opt out.
Q. Will text message rates apply?
A. No, the bank will be paying for any text message fees.