WSB in the Media
Back to All News
July 25, 2018
WALDEN SAVINGS BANK AWARDS SCHOLARSHIP TO NEWBURGH FREE ACADEMY SENIOR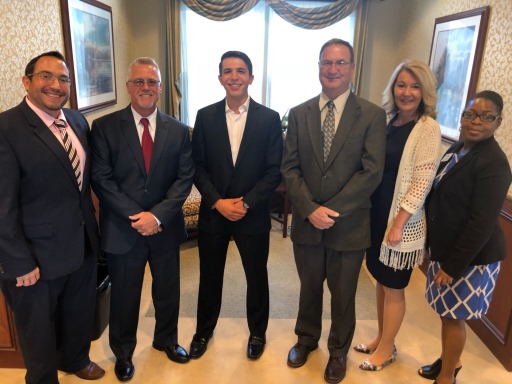 Walden Savings Bank is proud to announce Joseph Post as the 2018 recipient of the Walden Savings Bank David T. Cocks Memorial Scholarship.
Post, who will graduate from Newburgh Free Academy in June, has achieved academic success in both Honors and Advanced Placement courses, while also achieving notable success as a member of NFA's varsity soccer, lacrosse and polo teams. Post was awarded the Section Nine Martelli Coaches Award for soccer and also plays for Quick Strike FC, a premier soccer team based in the Hudson Valley. He also competes in polo in the National Youth Tournament Series, for which he traveled to Santa Barbara, California in September 2017 to represent the east coast with other polo players in his age bracket.
Post is a longtime member of the Boy Scouts of America and recently achieved Eagle Scout status. His project entailed building horse stables at a public park in his community, which also ties into the job he has held working for an equestrian facility. Post has also dedicated much of his free time to civic-minded pursuits. He has completed more than 100 hours of community service, working with charitable organizations including the American Red Cross, St. Jude's, the American Heart Association, Lap 4 Life and Relay for Life, for which he has raised more than $5,000 over the past five years. Post is also a member of his school's Zero Waste Management Club, which focuses on composting and recycling initiatives to help preserve the environment.
Post will attend the University of Kentucky in the fall. He then plans on a course of study that will lead him into the business world and a role in the rapidly growing field of social media marketing. He is also interested in pursuing the career he has already begun in the equestrian world, and would like to remain affiliated with the United States Polo Society.  
"Joseph has exhibited a seemingly endless dedication to, and tireless pursuit of achieving his personal best in academics, athletics and community service," said Dr. Peter Masci, Walden Savings Bank Director and Scholarship Committee member. "He has conducted himself as a committed learner and exemplary leader throughout his high school career, and we are proud to award this scholarship to a student who so fully embodies its spirit and the character of David T. Cocks."
The David T. Cocks Memorial Scholarship is administered by the Community Foundation of Orange & Sullivan. The scholarship, in the amount of $2,500, is awarded to an inbound college student who mirrors the character of Mr. Cocks, former President and CEO of Walden Savings Bank and respected community leader.