WSB in the Media
Back to All News
July 19, 2021
Historic Walden Savings Bank embraces newest technology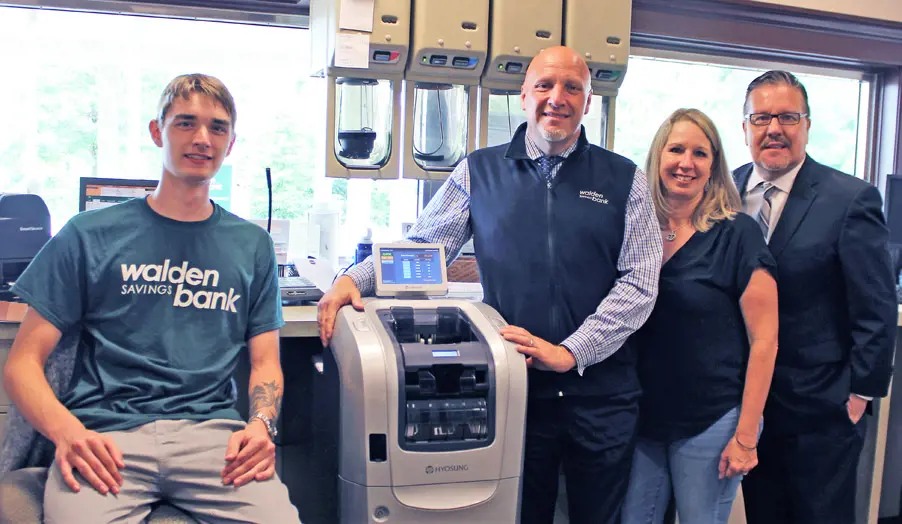 Teller Andrew Chomyn, a student studying cybersecurity at Orange Community College; John Carola, vice president of retail delivery and marketing; Diana Leahy, customer service representative; and Derrik Wynkoop, president/CEO. Photo by Kathy Roberts.
Can a 150-year-old institution remain relevant in these changing times? Walden Savings Bank is proving just that, according to President and CEO Derrik Wynkoop.
"We're bringing a more interactive approach to our flagship branch," said Wynkoop, who began his career at Walden Savings Bank after graduating college. He returned in 2011 to become its president and chief executive officer.
"We're not bringing in technology for technology's sake; we're doing it because it's going to make it easier and more comfortable for our current and future customers in every age group."
Walden Savings' customer mix is split nearly 50-50 between those born before 1964 and those born after 1965.
The move to an interactive platform — while continuing to offer traditional services its customers have come to expect — will bridge the generational gap. One consequence of the pandemic was that those who looked askance at "modern" banking methods have now embraced the ability to get things done when they can't get out of the house or office.
"My 86-year-old mom is using internet banking now," said Wynkoop with a smile. "These upgrades are a benefit to all our customers in every age group."
To meet the goal of melding traditional and contemporary seamlessly, the bank is creating a 3,100-square-foot interactive banking floor in its Montgomery flagship branch. The new floor plan eliminates the high counters that once separated teller from client and makes those customer queues disappear.
Instead, customers will be greeted by a digital banking specialist who can help with basic cashless transactions, then guide clients to additional services on the main floor if needed.
Four separate banking pods will replace the traditional tellers' windows, and cash "recyclers" will handle the business of tallying bills and coins, freeing up the teller to assist the client with other services.
The revamped space will also have a "digital discovery center" that offers the opportunity to learn how to access and use the bank's technological services —including CardValet; Bank-Wise personal financial management dashboard; an online banking demonstration and enrollment; and Mobile Wallet.
For customers unfamiliar or uncomfortable with new technology, the digital banking specialist will be available to explain how new banking options can fit into their lifestyle and work to their benefit.
John Carola, vice president of retail delivery and marketing, is especially excited about the introduction of augmented reality to the banks' customers.
"By scanning a QR code, they'll be able to take an augmented reality tour of the branch and its services. It's a very exciting innovation we'll soon be able to offer our customers."
The revamped layout will also offer three confidential meeting areas and a separate conference room with video-conferencing capability for customer meetings.
"When we get a new customer here in our Montgomery branch, I'm able to come in and personally welcome them," Wynkoop said. "With the new video-conferencing capability, I will be able to personally welcome new customers in our eleven other branches and in our loan center as well."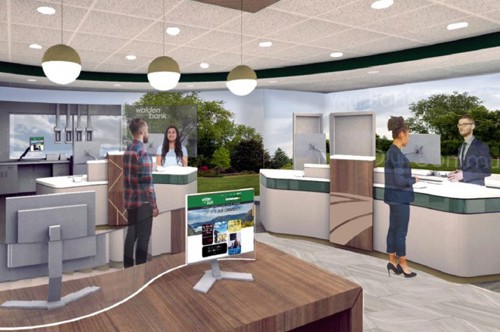 A rendering of the new lobby.
Completing the new layout will be a self-service coffee bar for customers and a coin redemption center that does not charge a fee to its customers nor its neighbors who may need to utilize it. A new walk-up ATM can dispense 20s, 10s and 5s and is capable of handling bulk check and cash deposits for personal and business customers.
The bank is also planning to introduce contactless cards, prestaging transactions, fingerprint biometrics and an ID scanner in the near future.
Wynkoop said his board of directors was initially skeptical about introducing the integrated-technology concept into family friendly Walden Savings, but after discussing and brainstorming the long-term benefits the changes would bring to its current and future customers, they agreed to spend the nearly $1 million in physical and technological upgrades proposed.
The new lobby is being built by Storm King Group, a Montgomery-based company, and is expected to be completed by this fall.
Walden Savings Bank, a federally chartered mutual savings bank founded in 1872, has already begun preparations for its 150th anniversary next April 25.
Part of the celebration, Wynkoop said, is the bank's commitment to the community and confidence in its continued service with the addition of the newest technology. He said, "60 to 70 percent of our customers are omnichannel — but one channel doesn't go away when another opens. Our goal is to make sure our customers get the same level of service on all channels.
"Digital natives' are the most comfortable with today's technology. Traditional banking is not going away, but we'd be putting our heads in the sand if we did not embrace the technology and times. We're committed to remaining contemporary."