WSB in the Media
Back to All News
August 13, 2019
WALDEN SAVINGS BANK PROVIDES SCHOLARSHIP IN MEMORY OF PAST PRESIDENT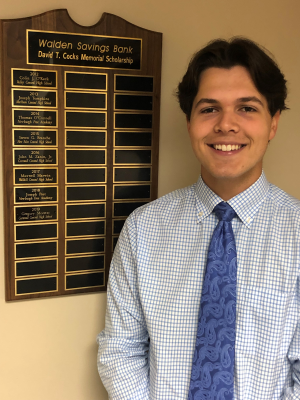 Walden Savings Bank recently presented Cornwall High School graduate Greg Moretto with the 2019 Walden Savings Bank David T. Cocks Memorial Scholarship.
"It's definitely a tremendous honor," said Moretto. "Mr. Cocks was an exemplary citizen and community volunteer, and it's humbling to receive an award in his memory."
Moretto is a decorated Eagle Scout. For his Eagle Scout project, Moretto improved a gazebo in Cornwall dedicated to the memory of local NYFD fireman Kenneth Kumpel, who was among the missing after his firehouse was called to the World Trade Center on September 11, 2001. As part of the overall renovation, Moretto built and installed a bench, created new signage, planted perennial flowers and painted the floor.  
"Growing up, I learned about Mr. Kumpel's heroic sacrifice from my mom," Moretto said. "I wanted to give back to my town and honor a man who is a real local and national hero."
Moretto, who earned an impressive average of 96, was also an active member of his school community. He earned varsity letters in three sports, was a member of the National Honor Society and participated in the concert band, jazz band and quiz bowl team.
"Greg is a young man who demonstrates the important character traits we look for when awarding the Walden Savings Bank David T. Cocks Memorial Scholarship," said Dr. Peter Masci, Walden Savings Bank Director and Scholarship Committee Chair. "He has worked hard in and out of the classroom, and we are happy this award will assist him on his future path."
Moretto is headed to Boston College to study economics and history. He then plans to go to law school.
"I am very happy and thankful for the board's generosity," added Moretto. "This scholarship will definitely help lighten the financial burden as I go into my first semester. It is very, very appreciated."
The scholarship, administered by the Community Foundation of Orange & Sullivan, awards $2,500 to an inbound college student who mirrors the character of Cocks, a former President and CEO of Walden Savings Bank.