Walden Savings Bank's 22 Days Of Giving
#WSBGives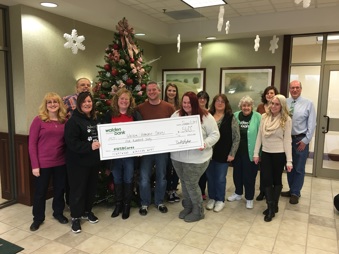 Walden Savings Bank and its employees to donate nearly $21,000 to local causes throughout the holiday season
Our region is home to so many important causes, and Walden Savings Bank is proud to lend a helping hand to support the great work that is being done close to home. Last year our employees pitched in more than 1,800 community service hours through our Community Service Program, which offers employee volunteers to local organizations.The end of the year brings no greater joy than the opportunity to do our part to support our neighbors in need. That's why, this year, we've established a new initiative to give back even more to the people and organizations who make a difference in our community.
22 Days of Giving was created to complement year-round philanthropic efforts throughout the holiday season. Each of our Bank's 22 departments has selected a local cause, or causes, to benefit from funds raised during organized monthly dress down days.We invite you to learn more about these inspiring organizations below, and to join the conversation on social media by following the hashtag #WSBGives to learn more about why each organization was selected.
In addition to local individuals and families in need, we will be giving back to the following organizations:
Florida Community Food Pantry: In 2016, the Florida Community Food Pantry served more than 2,600 families in Florida, Goshen, Chester, Pine Island, Greenwood Lake and Warwick.
Hudson Valley SPCA: The Hudson Valley SPCA is a no kill sanctuary dedicated to rescuing, sheltering and defending animals while actively seeking loving, forever homes for them. To learn more, visit www.hudsonvalleyspca.com.
Middletown Humane Society: The Middletown Humane Society is a low/no kill privately run animal shelter in Middletown N.Y., serving the City of Middletown as well as surrounding communities. To learn more, visit www.middletownhumanesociety.com.

Multiple Sclerosis Society: The Multiple Sclerosis Society mobilizes people and resources so that those affected by multiple sclerosis can live their best lives. To learn more, visit www.nationalmssociety.org.
Orange County K-9 Association: The Orange County K-9 Association aims to educate and promote the use of police service dogs in the community, perform canine demonstrations for schools and community groups, provide additional training and equipment for police service dogs and their handlers, assist in the care of retired police dogs, and furnish benefits to all police canines.
Safe Homes of Orange County: Safe Homes of Orange County's mission is to work toward the elimination of intimate partner violence and human trafficking by providing comprehensive support services to victims and their children, and by increasing public awareness about these issues and encouraging accountability for perpetrators. To learn more, visit www.safehomesorangecounty.org.
Sparrow's Nest: Sparrow's Nest of the Hudson Valley provides two meals, once a week, to the families of caregivers and children diagnosed with any type of cancer within a 20-mile radius of the Hopewell Junction area. To learn more, visit www.sparrowsnestcharity.org.
The Humane Society of Walden: The Humane Society of Walden is a no-kill, non-profit safe haven dedicated to helping stray and abandoned cats and dogs serving the communities of Montgomery, Walden, Maybrook, Crawford, Wawarsing, Shawangunk, and Mamakating. To learn more, visit www.waldenhumane.org.
The Shane Edward Tanzosh ARVC Heart Foundation, Inc.: The Shane Edward Tanzosh ARVC Heart Foundation, Inc. was established by the Tanzosh family to honor Shane's memory. The foundation conducts research on Arrhythmogenic Right Ventricular Cardiomyopathy (ARVC), a form of heart disease that usually appears in adulthood, and aims to create an early detection screening test for young athletes.
Times Herald-Record's People for People Fund: People for People aims to provide temporary assistance to residents with ties to the Times Herald-Record's readership area, which covers Orange, Sullivan and Ulster counties, N.Y., and parts of Pike County, Pa. To learn more, visit www.recordspeoplefund.org.
Zylofone: The Zylofone mission is to encourage creativity through the arts while enhancing social skills, confidence and independence. To learn more, visit www.zylofonestudios.wordpress.com.