Community Shred Days Announced!
We are happy to share our 2023 Community Shred Day schedule.
We will be offering several Community Shred Days with our partners at Legal Shred throughout the year.
As always, these events are FREE and open to all members of the community.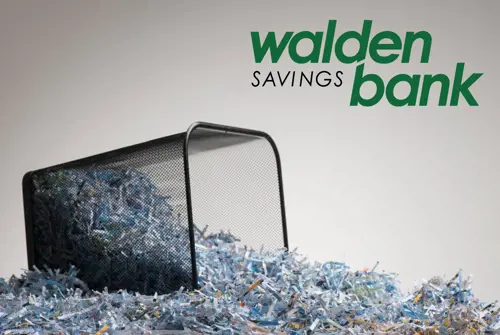 2023 Shred Day Schedule 
Saturday, September 30, 2023 10:00AM - 1:00PM New Windsor Branch (213 Quassaick Avenue, New Windsor, NY 12553) 
Let us help you safely destroy your most confidential paperwork. No need to worry about staples, paperclips, or spiral notebooks. This high tech shredder truck can easily shred through all that.  
In addition, all the shredded paper is recycled helping to preserve and protect our local and global environment.
We ask that you please limit yourself to three boxes of materials to shred.
Each Community Shred Day will be held outdoors as permissible under current safety guidelines. Should state or local restrictions change, it may be necessary for some dates to be rescheduled.  We are committed to providing this valuable service while ensuring the safety of our employees and guests.
Walden Savings Bank employees will be on site to monitor all safety precautions. 
This is a Drive Thru event. We ask that you remain in your vehicle and a Walden Savings Bank employee will assist you with your materials.